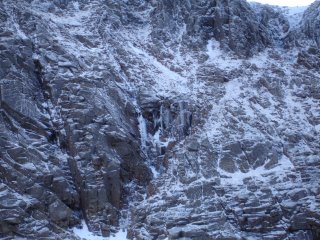 Very little change from Friday with many of the rock routes on the Mess of Pottage, Pygmy and Fingers Ridges still looking pretty bare although slightly whiter. The good news is that the ice is getting a lot fatter in any drainage lines. The bad news is the ice is getting fatter on the paths too!
The Escalator over on Hells Lum has been climbed. Today Mark (Chadders) and Desire climbed the rather thin and sporting looking Mirror Direct - you can just see them if you click on the picture above...! Compare the ice buildup to the Mirror Direct in Easter 2008. See
http://www.youtube.com/watch?v=txKgqOrlXKI
Full report and lot's of photos from Sunday can be found on Fi's Blog at
http://www.marmotte.co.uk/blog/diary.html
BTW according to the BBC weather report Glasgow had it's coldest November temperatures for over 23 years - wow!